The mission of F3 is plant, grow, and serve small workout groups for Men for the invigoration of Male Community Leadership. F3 Fort Collins will be servicing Fort Collins and surrounding areas. 
F3 Nation in the News/Media
F3 was born in Charlotte, NC but is spreading rapidly in a grass roots fashion. If you haven't heard of F3, here are some things to check out.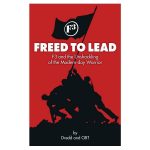 Freed to Lead is a book written by the founders of F3, Dredd and OBT. This explains why we do what we do.